HOTEL INFORMATION
Address :
Jalan Lodtunduh 1, Br. Abiansemal, Kaja Kuah Ubud, Bali 80571, Indonesia 80571
Phone :
+62(0)81558488304
Website :
www.baliharmonyvilla.com
Email : Click here

The Village of Lodtunduh
Harmony is located on the edge of a huge rice paddy in the village of Lodtunduh.  Lodtunduh is a really lovely community and a quiet location where the villagers can often be seen grooming their fighting cocks, drying rice on the road, or participating in the numerous religious festivals.  In recent years there has been a steady stream of culturally broadening influences and visitors arriving here due to the beauty of the rice fields. An early morning walk down our village street to the crossroads fruit and vegetable market is a lovely way to start the day and meet the locals.
While we are not in Ubud center we are only 2 km away so it's peaceful and relaxing yet close to the "action".  Our village is still mostly agricultural and it's a fun place to explore real Bali village life which has generally disappeared from more commercially tourist areas such as Kuta or Seminyak.  You'll likely encounter ceremonies, celebrations, weddings, a cremation perhaps (a big event in Bali) and the local temple festivals.  Most of all you'll see (depending on when you visit) the fascinating cycle of rice farming!
We are Centrally Located for Bali's Sights & Activities
Best of all we're very centrally located for all of Bali's sights and activities and in the best spot for seeing Bali. We're not far from the Monkey Forest and all the world class shopping on Hanuman Street and the cultural activities and restaurants in Ubud. We're also located on the south side of Ubud, so all of the south of the island is in easy reach without having to go through all the traffic of the city.
Ubud
Ubud is just a 15-20 walk from our village and is the vivacious center of Bali's arts scene, home to a small treasure trove of museums, galleries and a real paradise if you're looking for wood carvings, paintings, batik, bamboo articles and Balinese artwork and of course boutique shopping for clothes, gifts and jewelry.  It is surrounded by rice fields and lively markets with shops, beautiful temples and many dance shows you can attend.   There are a number of villages around Ubud that specialize in all kinds of crafts such as Celuk (silver) and Mas (wood carving).
Ubud became a center for drawing and painting in the years before WWII, thanks to an influence of European painters who realized the richness of the local traditional art.  In and close to Ubud there are numerous art galleries with examples of both early and more recent work, the two best being Neka (on the left in Sanggingan, before you get to the hill down to the Campuhan bridge) and ARMA (on the Hanoman Road where it bends from being north-south to east-west).  Both are attractive buildings in their own right and on Sunday mornings at 11am ARMA is the venue for children's traditional dancing classes, a delight to watch.
There are various art classes, one of the best known being Pranoto's.  His gallery and shop are on Jalan Raya, nearly opposite Oka Kartini Bungalows.
There are dance performances most nights of the week in the various temples in Ubud and its satellite villages. The tourist office on the corner of Jalan Raya and Monkey Forest road has details and there are often ticket sellers in the streets for that nights performance. Our staff can help with advice as to the best ones to see. You'll often hear the gamelan orchestras practicing as you walk around town.
On the east side of Ubud, about 10 minutes drive, is the village of Pejeng which temple has the famous drum, the Moon of Pejeng. It's a 5 minute drive from Pejeng to Goa Gajah (Elephant cave from the first kingdom of Bedulu) where you can enter the cave to view the Statue of Ganesha. Don't miss the amazing world class Setia Darma House of Mask and Puppets (Jalan Tegal Bingin, Mas) a few minutes to the east of Lodtunduh village. Make a point of exploring some of the little side roads in Ubud – they are charming! Try jewelry making, drumming/gamelan classes, dance classes (traditional, belly and occasionally salsa or tango) or horse riding or cooking.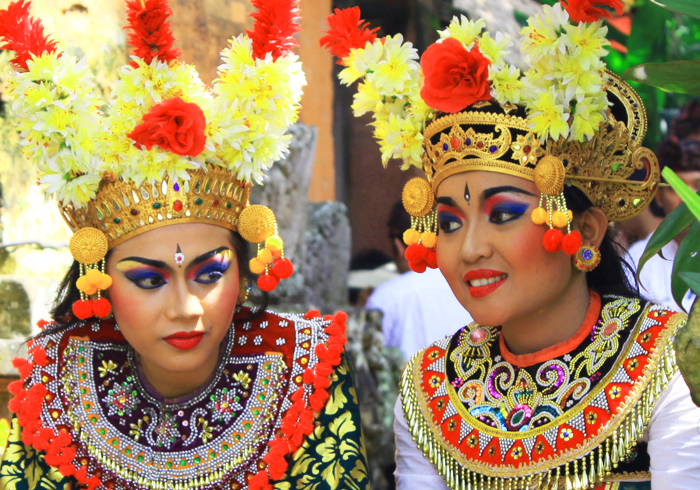 Ceremonies
Everywhere on Bali you will see people preparing themselves for a ceremony by making decorations and offerings. These colorful ceremonies take place on religious Hindu days or on religious family days such as a ceremony for a newborn baby, a ceremony for the youth or a ceremony for the deceased. It's certainly worthwhile and the staff can tell you which ceremony will take place in the neighborhood of the villa during your stay.
The tourist office will also have a notice about any major ceremonies in the neighborhood, especially cremations. Do go to see one if you get the chance – you will not be intruding as they are very public performances. To go into the temple, women must wear a sarong with a sash and men long trousers or a sarong, also with a sash. We keep a selection of sashes at the house and can gladly provide one if you need one.
Rice Fields & Harvest Cycle
Harvest cycle – farming patterns tend to have a rolling calendar of planting and harvesting and the local farms typically have three crops a year. The paddys are a series of large fields and each farmer chooses when to harvest so it's never all taken at once. One paddy field might be harvested and brown, the one next door may be newly planted or coming up to harvest, others having the straw burned off, or another a wonderfully flooded "mirror' look, so it's quite hard to predict. When rice fields are greenest, they are typically in the middle of the cycle. So depending on when you visit you'll see the fascinating cycle of rice farming from preparing the fields, planting seedlings, thinning out the new rice, watching the ducks do their amazing dances, to harvesting, threshing and drying. It's one of the best things about visiting Harmony! The cycle is fascinating to watch no matter when you come. It's mesmerizing!
Exploring Bali
​Harmony is situated in the best spot for seeing Bali. It's just over 2 km from Ubud center but on the south side, so all of the south of the island is within easy reach without having to go through the traffic of the city.  You'll be close to all the action yet able to relax and enjoy real village life in Bali too.  We're not far from the Monkey Forest and all the world class shopping on Hanuman Street and the cultural activities and restaurants in Ubud.  Kuta and Legian are easy drives for a whole day out with a different vibe. Or you can go up the hill to Kintamani and the hot springs at Lake Batur in an hour or so.  Temples abound everywhere – from Besakih, the "Mother Temple" to Tanah Lot on the ocean (two of the most famous and holy) and we can organize tours to anywhere on the island and to Lombok too….
Bali is a beautiful island (especially away from the heavily developed south) and touring around is a delight, though you may prefer to hire a car and driver rather than cope with both driving and unpredictable traffic while trying to do sight seeing.  Our favorites include the Royal Baths at Tirtaganga (and lovely rice terrace scenery) via Klungkung with its palace and little museum, Besakih temple, Kintamani and Munduk and Amed.  And of course, all the beach and sea-based activities – there's excellent diving, snorkeling and surfing.
Don't miss out on some island hopping.  There are day trips to Nusa Lembongan, Nusa Penida and Lombok.