HOTEL INFORMATION
Address :
Jalan Lodtunduh 1, Br. Abiansemal, Kaja Kuah Ubud, Bali 80571, Indonesia 80571
Phone :
+62(0)81558488304
Website :
www.baliharmonyvilla.com
Email : Click here
Accomodation
Bali Harmony Villas offers you a luxurious stay in Ubud with five different types of luxury Villas each with a unique feature for your choosing. Your stay with us is guaranteed to give you an abundance of scenic beauty, incredible  service and a ton of relaxation. We offer
Two double-bedroom villas, two full single-bedroom villas and a single-bedroom mini-villa (no kitchen). All tastefully furnished in tropical minimalist style.
Soaring bamboo interior roof structures are a work of art in themselves. Granite and terrazzo for the uniqueness and comfort of cool stone. Designer bathrooms for each beautifully luxurious bedroom.
High end mattresses and bedding with unique convertibles in two of the villas, that turn a queen into two single beds for children and guest use.
Kitchens are equipped for guests who want to prepare their own meals and optional cooking classes are available for those who want to try their hand at mastering Balinese cuisine.
High efficiency ceiling fans for additional tropical cooling and fully folding glass and louver doors to allow the outside in and the inside out.
While Harmony is large enough so each Villa is private, it's small enough for community. All Villas are steps away from the 15 meter infinity pool.
Click on each villa name below to explore the uniqueness of each.
Villa Budi
The two bedrooms each soak up the ambiance of the ocean of rice to the west and north. The rear north-facing bedroom has a unique bed design that permits either a queen or two singles and a garden bathroom with spacious rain shower. The front bedroom looks out directly over the rice fields below and its bathroom has both a garden and a full tub as well as rain shower.Read More…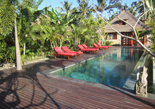 Villa Asmara
One of the favorites of Asmara's guests is to awaken before dawn and watch the early light lift the mist over the ocean of rice and experience a Bali Sunrise right from your private deck with coffee in hand. It's an experience like no other in Bali. Stay long enough and you'll experience the whole cycle of rice cultivation from planting to harvesting and the local religious festivals celebrating Bali's unique cultural heritage.Read More…
Villa Jiwa
This Villa hideaway is a gorgeous one bedroom for up to two people with en-suite garden bathroom and refreshment facilities (but no kitchen). The villa has a spacious bedroom leading to a lovely garden bathroom of terrazo and granite featuring a rain shower. Located with a gorgeous view to the west and surrounded by gardens on both side it's also between the two other one bedroom villas so it can be occupied separately or as an additional bedroom for your party in any of the other villas. Steps away from the pool it includes a private sitting/lounging area and deck.Read More…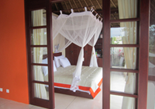 Villa Sungai
The Villa is a granite, terrazo and bamboo masterpiece with a soaring ceiling structure that's a work of art in itself. The master bedroom is a sanctuary for adult relaxation while the second bedroom is set up with either twin beds for accompanying children or a double for adults. Two en-suite bathroom facilities features rain showers for luxurious bathing experiences. The kitchen has a breakfast bar and is well equipped for casual food preparation or a more elaborate dinner. The living room is tastefully furnished for relaxation with a large teak dining table and traditional Javanese sofa.Read More…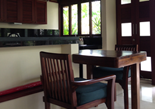 Villa Jantung
Situated with a commanding view of the gorgeous pool and deck and the rice fields beyond. Villa Jantung is a wonderful retreat for a couple or a single person set in our tropical garden amongst fruit trees. Organized for indoor/outdoor living with an open plan living room and a full kitchen, the spacious master bedroom will give you privacy with a canopied bed and rich wooden decor. The en-suite garden bathroom comes with a custom vanity, generous tub and lovely rain shower. Villa Jantung has its own private garden complete with water feature yet is steps away from the pool and yoga deck.Read More…